The Council for Children and Families was established in 1995 to teach and support people who provide care to children from 0 to 8 years old. For more than two decades we have been educating caregivers, teachers, and family members in developmentally appropriate practices with the main goal to prepare young children for becoming happy and successful adults.
Child Care quality.
We firmly believe that increasing quality of early childhood care will make a significant difference in the lives of children and families, and thus will make a profound and lasting contribution to society. We are dedicated to educate family members in ways they can self-assess an early childhood program for quality.
Increasing quality by professional development of early childhood teachers.
We work closely with the Council for Professional Recognition to help early childhood teachers get Child Development Associate Credentials (CDA). Our unique program; Fast Track CDA helps CDA candidates obtain classes, preparation of paperwork and practice for the final test.
Since establishment of Department of Early Learning and its Managed Education and Registry Information Tool (MERIT), we work to provide the highest quality practical training. Our signature correspondence courses are based on the newest research in the area of Early Childhood Education. They are a valuable resource for the childcare professionals in the Seattle area and throughout the world.
About the President and Founder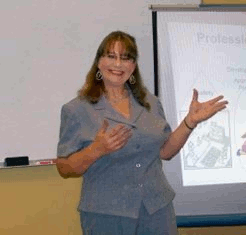 Born in Poland, Tatiana Sikora/Strachan earned her first Masters Degree in Earth Science. In 1985 she came to the United States where she discovered her love for teaching young children and she committed herself to a career working with children and training the professionals who serve them. Year 1995 marked the incorporation of The Council for Children and Families (CCF), a non-profit organization dedicated to developing successful childcare professionals. In 2001 Tatiana completed her second Graduate program with a Masters in Early Childhood Education, from The City College in NYC.
As the Executive Director of CCF in New York, Tatiana developed innovative curriculum for CDA and State mandated training, with specific emphasis in science, puppetry, social skills, discipline, child development, parent involvement, and successful business development. In addition, she created a training institute, managed a team of community trainers, oversaw a federal early childhood feeding program, as well as personally participating in the writing, directing and performing of puppet shows to assist traumatized children in the wake of the 9/11 terrorist attacks.
Tatiana moved to the Seattle area of Washington in 2002, where she continued her role as Executive Director of CCF bringing her expertise and experience to this Northwest community. Seeing a serious need, she developed the innovative CDA Success Program, designed to help family childcare providers and daycare center employees navigate all of the requirements for successfully earning their CDA Credentials. She developed CDA Fast Track a personalized CDA preparation program designed for experienced early childhood professionals who had accumulated classes from different sources and were ready to combine it all in a Child Development Associate Credential.
Tatiana is registered as an advanced trainer with Washington State Department of Children, Youth and Families. She developed curriculum for more than 21 classes that she was able to deliver to more than 700 early childhood teachers in person and in a correspondence form.
Tatiana's passion is puppetry and storytelling. She teaches puppetry and storytelling locally and internationally. She is developing a puppet Christian ministry.
Tatiana's latest inovation is a groundbreaking, Day Care Dog Program which introduces therapy dogs into early childhood classroom to combine environmental awareness with emotional and social development of urban children. Well disiplined dogs will visit participating classrooms to help children to develop attitude of appreciation and respect for domesticated animals.
Tatiana continues to lead the organization in expanding the number of training opportunities in the Puget Sound Region, particularly in puppetry and storytelling. She expended her services to countries outside USA in particular to India, Kenya and Nicaragua. She believes that given the growing awareness of the importance of Early Childhood education, CCF can play an important role in increasing quality of early care to make a difference in the lives of young children.